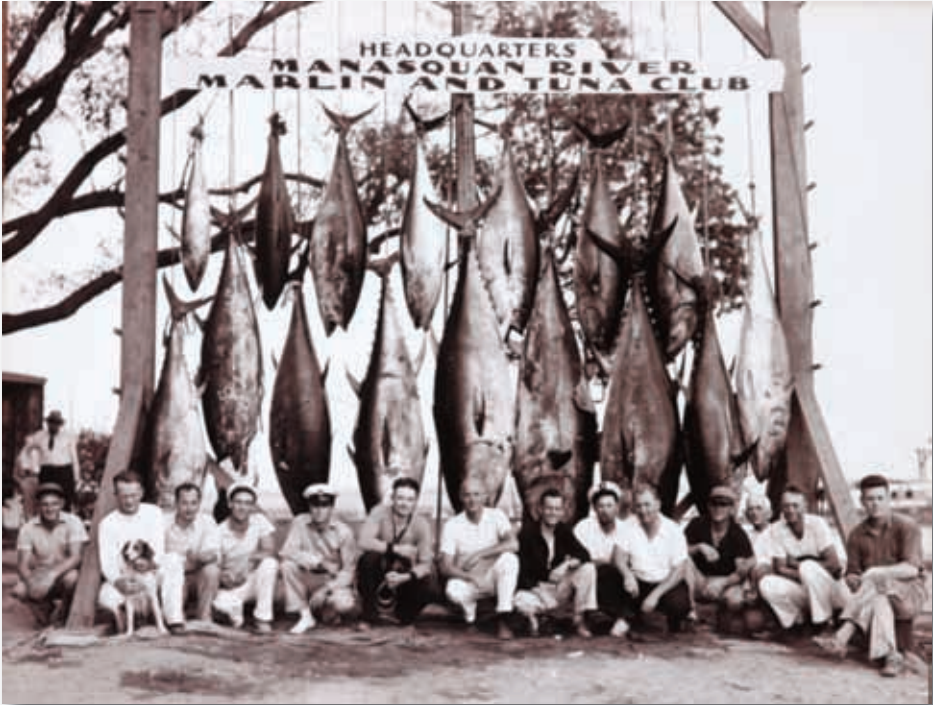 History
For the past 75 years members of the Manasquan River Marlin & Tuna Club have had a remarkable and profound influence on the world of big-game and inshore fishing. New Jersey's reputation for big-game fishing began when the Sea Bright Grounds gave up Jacob Wertheim's 286-pound bluefin tuna in 1915, followed by Christian W. Feigenspan's world record of 407 pounds in 1923. Ten years later, Francis Low captured a gigantic (for that time) bluefin tuna weighing in at 705 pounds! Low would become one of the founding members of the Manasquan River Marlin & Tuna Club and the club's first president in 1936.
The club was one of the two founding clubs participating in a competition between New York and New Jersey boats that would eventually become the prestigious United States Atlantic Tuna Tournament. Walter O'Malley, owner of the Brooklyn Dodgers, fished against a Manasquan River team and the results were "mailed" back to shore by carrier pigeon. Since then, club members have fished the world over, setting numerous world record catches under the auspices of the International Game Fish Association, and supporting the protection and conservation of game fish.
The 1930s were exciting times for big-game anglers along the Jersey Coast. Bluefin tuna were plentiful, white marlin could be caught within a few miles of the beach, and swordfish were caught on hook and line, and harpooned, in the Mud Hole. It was a time when early big-game pioneers such as Ernest Hemingway, S. Kip Farrington, Van Campen Heilner, Michael Lerner and Zane Grey were writing stories and publishing books about the relatively new sport of big-game fishing. Local rod and gun columnists in New Jersey and metropolitan New York newspapers like Henry Schaefer, Bill Backus and Nelson Benedict recorded the feats of local anglers.
The West Coast saw the first documented catch of a large bluefin tuna on rod and reel in 1899 when C.P. Morehouse landed a 251-pound fish off Catalina, but soon after, several world-record catches were made in the early 1900s at the Sea Bright Grounds. These East Coast fish easily eclipsed the California bluefin. On September 13th, 1915, Jacob Wertheim brought to the boat and later widged a 286-pound bluefin. Eight years later, Christian W. Feigenspan of Newark took a new world record of 407 pounds in 1923. Considering the tackle available at the time, with nothing more than a leather thumb stall to apply drag, and linen lines that rotted unless removed from the fishing reel each day, these catches were amazing feats of angling prowess and endurance.
The fishing was so good at the Sea Bright Grounds that many legendary anglers visited these waters in hopes of catching a huge bluefin. Bluefin at the Sea Bright Grounds were famous for leaping clear of the water and since this characteristic was not documented in other early big-game angling areas, the Sea Bright fish became known as "leaping" tuna. Anglers from the Avalon Tuna Club in California, founded in 1898, and the Atlantic Tuna Club of Rhode Island frequently made trips to New Jersey in hopes of catching a "leaping tuna" and to enjoy the good fishing.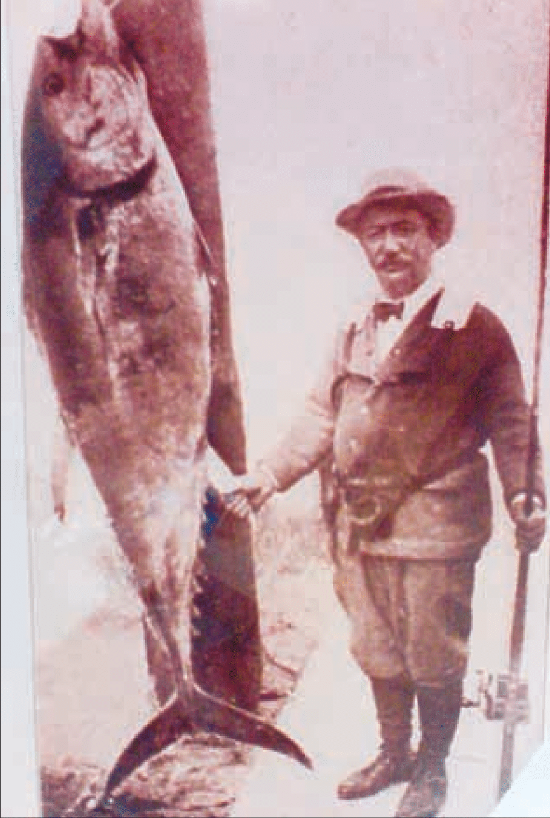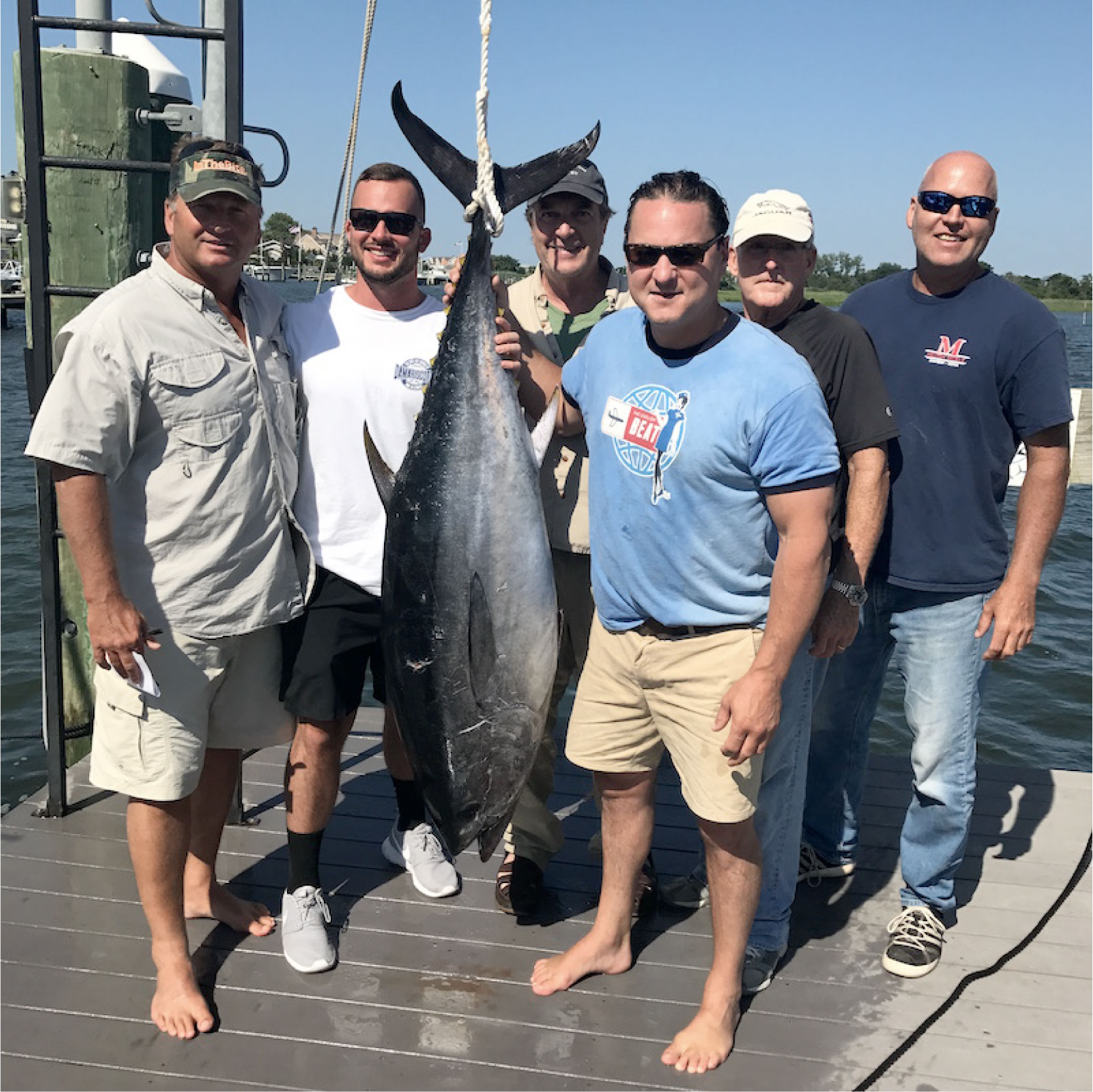 Membership
The Manasquan River Marlin & Tuna Club is a 501(c)(7) nonprofit, members only, sport fishing and conservation club, founded in 1936 and based out of Manasquan Inlet, NJ. With over 225 members, the MRMTC hosts numerous fishing tournaments and social events that promote our passion for fishing and help raise money to support the clubs philanthropic endeavors that include our George Burlew Scholarship, reef building efforts and support of numerous legislative and fisheries issues. We are a group of avid fishermen that spend countless hours at sea honing our skills and teaching the future generations about the age old family tradition of fishing.
Membership in the Club has grown to the point whereby we are not currently accepting any new members. We do have a waiting list for future potential members. Sponsorship by one of our trustees and letters of recommendation from two members are needed to initiate the process. Although the membership list is not publicized, member boats can be identified by our Club burgee. We also host a public tournament each year in August, the Offshore Open, participation in which will give you direct exposure to our group.
Officers & Trustees
Joe Oles

REEL CATCH

Past President

Chip Smith

In-Sure

President

Brian Kimmins

FLYING TIGER

Vice President

Joe Harriman

WATER DAILY

Treasurer

Dr. John Bednar

REEL WORK II

Secretary
Paul Parseghian

LYREMARK

Trustee

Nick Mills

LINDA ANNE

Trustee

Kevin Davenport

GOOD CALL

Trustee

Steve Hurlburt

Pacifier

Trustee

Erich Kremer

Lady Shell

Trustee

Dave Carman

Eagle

Trustee

Pete Papa

Priority

Trustee
Past Presidents
Francish H. Low

1936-1937

Ferdinand W. Roebling lll

1938-1948

Walter L. McDonough

1949-1950

Thomas McCarthy

1951-1952

Ferdinand W. Roebling lll

1953-1956

John M. Tassie

1957-1958

Bayard Srockton lll

1959-1961

Leo B. Travers

1962-1964

Maurice Meyer JR.

1965-1966

Robert J. Duffy

1967-1971

Raymond Dackerman

1936-1937

John F. Murray JR.

1975-1977

Axel B. Carlson JR.

1978-1980

John C. Lyons

1981-1985

David "Chip" Matthews JR.

1986

John B. Visceglia

1987

John Meyer

1988

Thomas O'Brien

1989-1991

Dr. Melvin J. Ravitz

1992-1993

John Heyer

1994-1997

Frank Marchese

1998-2001

Keith Norris

2002-2003

Thomas Fletcher

2004-2005

George A. Lewis

2006-2007

Anthony Cuccia

2008-2009

John Muly

2010

Dan Burns

2011-2012

Stephen Mellett

2013-2014

Ralph Munsie

2015-2016

Michael Benti

2017-2018

James Carton IV

2019-2020

Joe Oles

2021-2022